How have you been enjoying our grilled summer recipes so far this summer? This Paleo + Whole30 grilled pineapple chicken might just be my personal favorite! It's got this smoky barbecue flavor, with a hint of sweetness and that grilled pineapple…does it even get any better? Healthy summer dinners have never tasted so good! 
HAWAIIAN BBQ CHICKEN MARINADE
The flavor of the chicken marinade for this recipes is like a cleaned up Hawaiian BBQ sauce. It's a little smoky, a little sweet and will have you licking the extras off your fingers! We use all real food ingredients unlike many store-bought sauces and marinades and dates are our primary sweetener, keeping this one Whole30 compliant if that's your thing!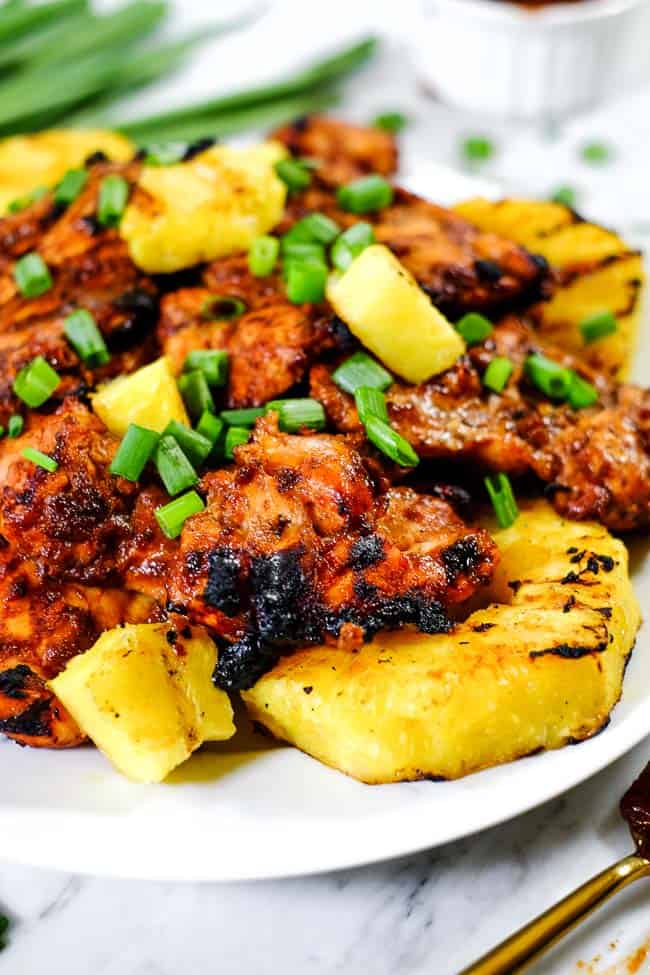 GRILLING – THE TRAEGER ADVANTAGE 
We use chicken thighs in this recipe which cook up pretty quickly, and we love grilling the chicken and pineapple on high heat and also on our Traeger wood pellet grill. The Traeger really adds a layer of smoke you just don't get with a traditional grill. It also consistently cooks everything to perfection. I have to admit that grilling on our old charcoal grill was always intimidating to me…like I would rather heat the house up cooking with the stove/oven than try to get the charcoals going, without making a total mess.
On the Traeger though, I feel as comfortable as I do inside in our kitchen. It has made cooking this summer so much more fun and enjoyable for me! We had a Traeger for several years, and then this summer our friends at Traeger upgraded our setup and sent us a brand new grill! It's been one of my favorite parts of this summer!